Journalism
From 2007-2008 I worked as a freelance journalist in Tokyo. I have also written for several major Norwegian newspapers. Below are some examples of my work (Norwegian only). Click on the images to see a larger version.
Japan har fått øynene opp for CO2-fangst (Teknisk Ukeblad)
Japanske kullkraftverk slipper ut langt mindre svovel og nitrogenoksider sammenliknet med Europa og USA. Vil japanerne lede an også i kampen mot CO2? Trykk på bildet for å komme til reportasjen.
Fra Skjervøy til sushi (Nordlys)
Jeg reiste sammen med tonnevis med laks fra Skjervøy til Tokyos sushirestauranter. Trykk på bildet for å komme til reportasjen.
Mazda tror på Norge (Dagens Næringsliv)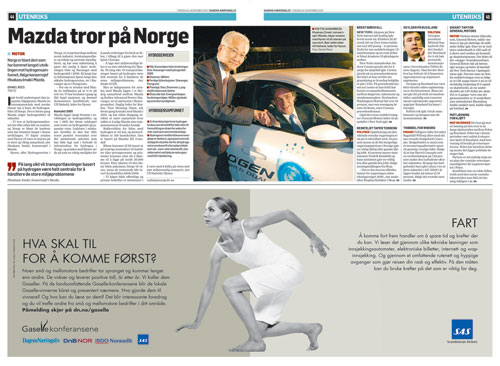 Sammenlikner WTO med kreftcelle (Nationen)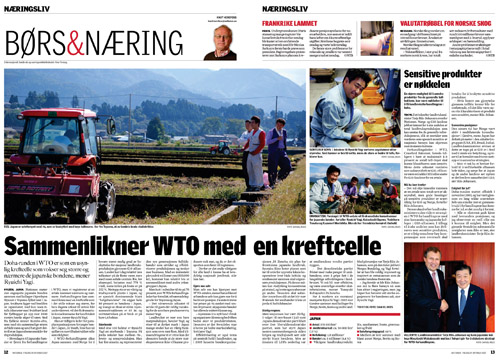 Symfonisk vri på Munch (Adresseavisen)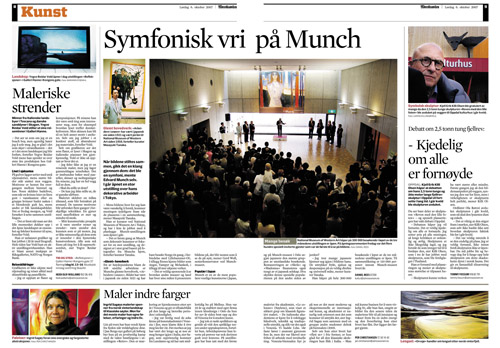 Godt feste på det japanske markedet (Teknisk Ukeblad)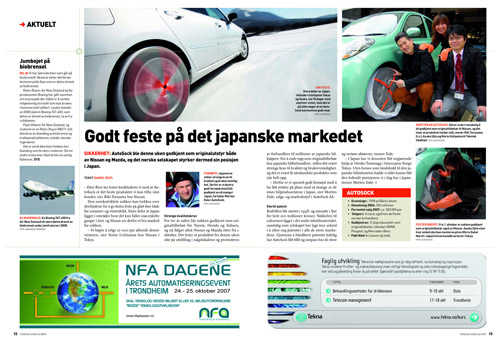 NRK
Fredagsgjest: Stein Winge
Portrettintervju av Stein Winge, regissør for Spelet om Heilag Olav. Sendt i Her og Nå på NRK P1 27. juli 2007.
Debatt om Make Poverty History (2005)
Dette var det første innslaget jeg laget på riksdekkende radio. Jeg orienterer om saken, før Atle Sommerfeldt (Kirkens Nødhjelp) og John Jones (Stiftelsen IGNIS) diskuterer hvorvidt den store Make Poverty History-kampanjen i 2005 bare var nytt prat om veldedighet fra de rike landene.
Thoriumkraftverk
In April 2006 I covered a seminar at CERN in Switzerland for the Norwegian Technoloy Weekly, and here I learned about the plans for a new generation nuclear power plants based on thorium instead of uranium. This become a political issue in Norway during the course of 2006, with Fremskrittspartiet advocating that Norway should take the initiative to build a pilot reactor to bring the project closer to commercial realization.
Norsk atomkraftløsning (Teknisk Ukeblad)
Thoriumkraft bedre enn CO2-rensing (Teknisk Ukeblad)
Universitetsavisa NTNU
Etterlyser mer professorengasjement
Puster liv i japansk innsjø
SensAqua satser i Japan
Ønsker seg teknopark i Trondheim
Trikken er studentenes yndling
-Visumregler hemmer utvekslingsprogrammer